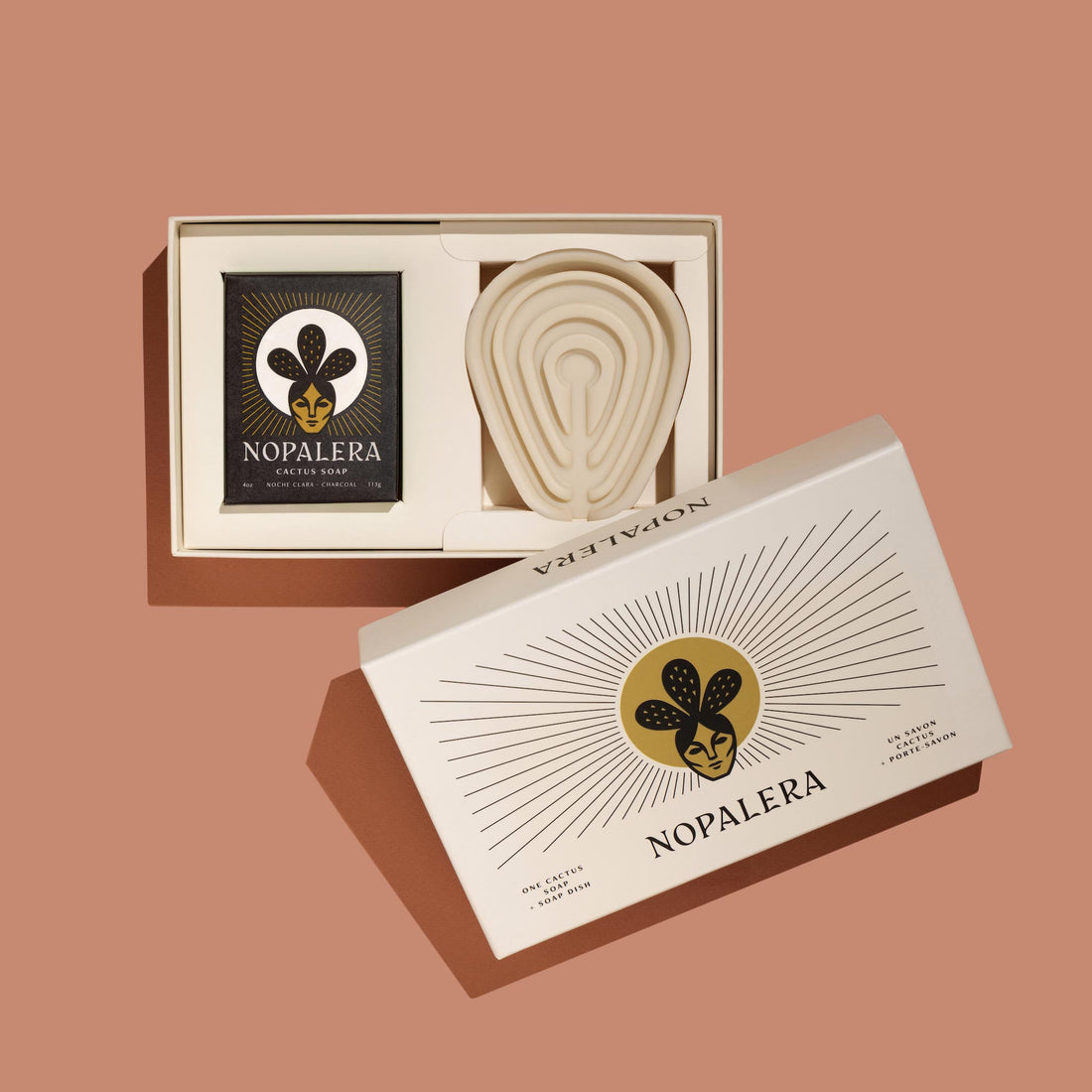 Soap & Dish Gift Set - Noche Clara
Soap: 4 oz | 113 g
The perfect pair ready to be gifted and adorn any sink. This luxe gift box contains Nopalera's signature Noche Clara Cactus Soap alongside a custom soap dish. Our cactus soaps couple handmade artistry with indulgent, native ingredients to evoke a sense of purpose and peace in every lather. Our custom soap dish is made with 100% food grade silicone for easy rinsing to last a lifetime.
SOOTHING BODY LATHER
Native Mexican Prickly pear cactus and rich plant butters deliver healing nourishment, while charcoal and cactus fibers gently purify and exfoliate skin. The unique essential oil blend of sage and eucalyptus clear the mind for an enriched, refreshing cleansing experience.
ADD TO CART
KEY INGREDIENTS
Prickly Pear Cactus
Soothes and exfoliates skin.
Charcoal
Removes impurities from skin.
Eucalyptus and Sage Oil
Antimicrobial skin soothers.
THE EXPERIENCE
Rich healing and refreshment.
In the shower or bath, lather Noche Clara Cactus Soap with warm water between hands or a gentle cloth. Rub in circular motions throughout body skin to reach desired cleanse. Inhale the blend of eucalyptus and sage oils before rinsing. Keep soap on soap dish to dry between uses and extend the life of the bar.
Custom Soap Dish
Made from 100% food grade silicone rinses easily and lasts a lifetime.
ADD TO CART
THE RESULT
Refreshed, bright body skin.

INTEGRITY IN FORMULATION
Vegan | Palm Oil Free | Essential Oil
WHAT OUR CUSTOMERS ARE SAYING