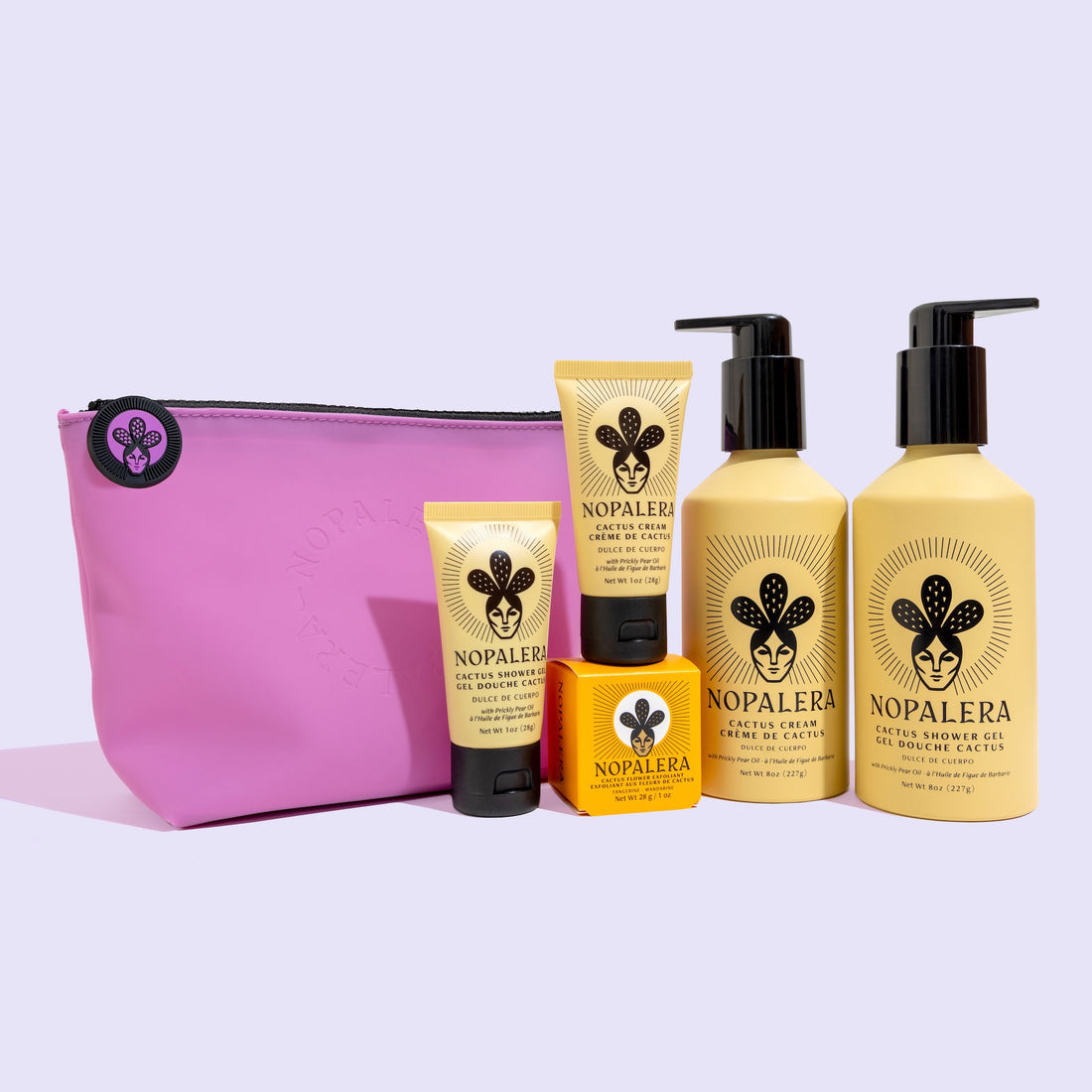 Dulce Goddess Complete Collection
Cactus Cream & Shower Gel: 8 oz | 227 g aluminum bottles
Discovery Set: 1 oz | 28 g each
Powerfully smoky and enduring, Dulce de Cuerpo Duo pays homage to Mexico's Pueblos Magicos and copal, an ancient ceremonial resin. Transporting you to the spiritual realm of festival, sacrifice, and celebration. Paired together, our Cactus Cream and Cactus Shower Gel define bolder body experience, unlike any other. Cactus fibers and fine sugar crystals exfoliate the body while Vitamin E rich prickly pear oil nourishes the skin in our cactus flower exfoliant.
ELEVATED BODY CLEANSE & NOURISHMENT
This silky body gel transforms your bathing experience into an exquisite self-care ritual while the ultra-luxurious body cream delivers deep, everyday hydration, powered by native Mexican prickly pear oil. Our Cactus Flower Exfoliant is a 3-in-1 body cleanser, exfoliant, and moisturizer.
ADD TO CART
KEY INGREDIENTS
Prickly Pear Oil
Anti-inflammatory and rich in Vitamins E and K, dramatically restores skin barrier function.
Cactus Flower Extract
Anti-inflammatory and anti-microbial, purifies skin for a clear, firm complexion.
Blue Agave Extract
Soothes, softens, and deeply moisturizes.
THE EXPERIENCE
In the shower or bath, lather Cactus Shower Gel with warm water between hands or a gentle cloth. Rub in circular motions throughout body skin to reach desired cleanse. Continue body ritual with Cactus Cream, post-shower. Twice a week, incorporate the Cactus Flower Exfoliant before rinsing with the Shower Gel for nourishing exfoliation.
ADD TO CART
THE RESULT
Supple, golden, glowing body skin.

INTEGRITY IN FORMULATION
Vegan | Credo Clean | Naturally Fragranced
WHAT OUR CUSTOMERS ARE SAYING